Main memory (sometimes known as internal memory or primary storage) is another name for RAM (and ROM).

Main memory is usually used to store data temporarily. In the case of RAM, it is volatile (this means that when power is switched off all of the data in the memory disappears).

Main memory is used to store data whilst it is being processed by the CPU. Data can be put into memory, and read back from it, very quickly.

Memory is fast to access, but only holds data temporarily...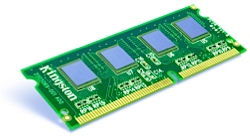 Backing storage (sometimes known as secondary storage) is the name for all other data storage devices in a computer: hard-drive, etc.

Backing storage is usually non-volatile, so it is generally used to store data for a long time.

Backing storage devices are slower to access, but can hold data permanently...